Starters
1. Polish Country Lard – £3.90
Served with bread and pickles
2. Kalduny – £3.90
Handmade little dumplings stuffed with meat, spreaded with melted butter and balsamic sauce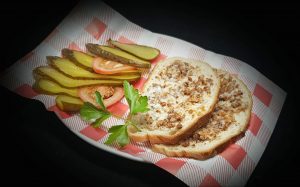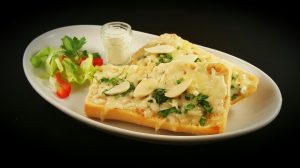 3. Hot Wings – £3.90
Served with Chipotle dip
4. Garlic Bread with Mozzarella – £3.50 (V)
5. Bowl of spicy Chips with Cheese – £4.20 (V)
Served with onion rings and Chipotle dip
---
Soups & Salads
1. Soup of the Day          from      £3.50

We do all our soups with passion and inner need to return the childhood memoraladies, so our products are always the best available on the market for quality and freshness. We strive to prepare them every day, delicious and different. Something good for everyone.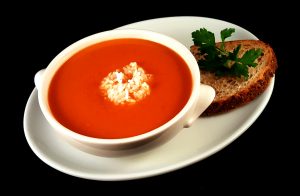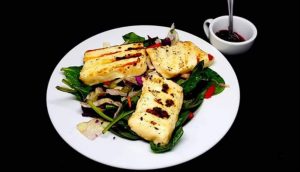 2. Grilled halloumi on Salad – £4.20
3. Chicken Salad – £4.20
4. Egg Nest – £4.20
Fried egg on bread, served with salad
---
Fish Dishes
1. Salmon – £9
The distinctive taste of this Athlantic fish caters to everyone's palate, with healthy rice and steamed vegetables
2. Hake – £9
Baked with carrot, white beans and tomatoes, served with mashed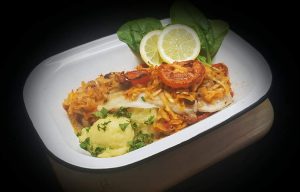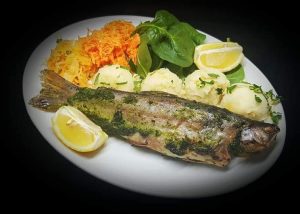 3. Baked Trout on Spinach – £9.50
Rainbow trout served whole with bones, with garlic butter, harmonizing with delicious spinach, mash and salad.
---
Chef's Specials
1. Calf's Liver – £10
Tender and elicious taste, aromatic braised onion served with mash and pickles
2. Baked Duck – £10
Tender, juicy piece of duck served with mash, red cabbage salad and cranbrry sauce
3. Dumplings 
Handmade, spreaded wih butter abd fried onion, served with salad
     * Meat – £8.50
     * Cottage Cheese -£8.20   (V)
     * Mix – £8.50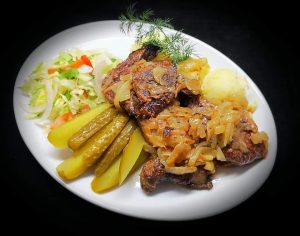 ---
Meat Dishes
1. Grilled Chicken – £8.49
Fillets served with chips and salad
2. Skewer on stick – £9.90
Chicken, pepper and onion grilled on fire, served with salad, chips and homemade garlic sauce
3. Braised Chicken Rolls – £8.60
Juicy chicken rolls stuffed with leeks and cheese, served with barlay, porcini mushroom sauce and salad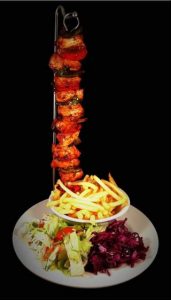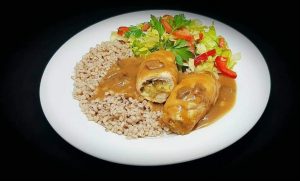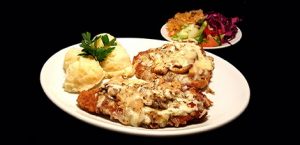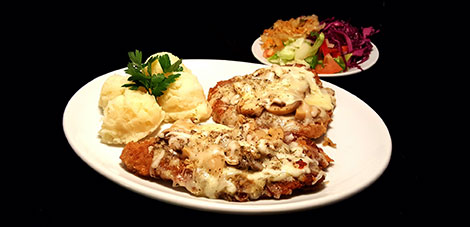 4. Chicken Fillet – £8.20
Traditionally breaded, served with mashed and salad
or baked with cheese in several flavors to choose from   – £8.60
– Tomato        – Mushrooms        – Jalapeno peppers        – Pineapple
5. Schnitzel – £8.60
Traditionally breaded, served with mashed and salad
Baked options available for £0.40 extra just like for chicken fillet
6. Roasted Pork – £8.60
In gravy sauce served with mashed and salad
7. Cranberry Pork – £9
In pepper sauce with mashed and salad
8. Goulash – £9
Served with Silesian white dumplings and salad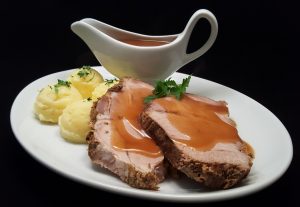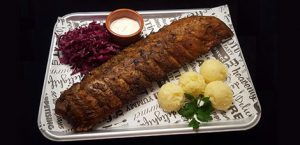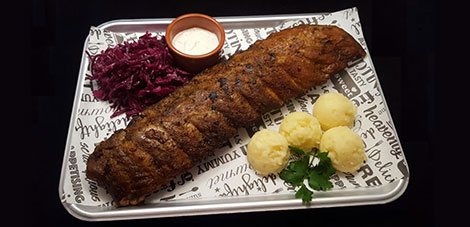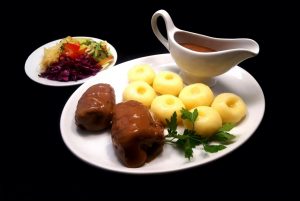 9. Rosti – £9
Served with pork goulash and salad
10. Knuckle – £12.50
Gently smoked, served with fried sauerkraut cabbage and chips
11. Grilled Ribs – £12.50
A dish especially prepaed for pork ribs gourmet, for those who want to satisfy their appetite. Grilled on fire, served with salad and mash
12. Beef Roulades – £9.20
Dish of Silesian origin served in dark gravy with white dumplings and salad
---
Kids Menu £6.20
price include (dish, drink, Kinder Stick Ice Cream or scoop of ice cream)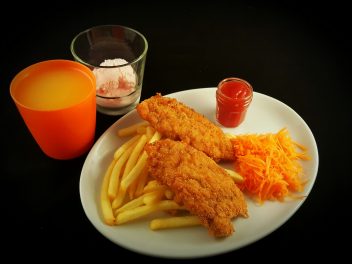 1. Chicken the Little 
Breaded chicken mini fillets, served with mashed or chips
2. Dumplings (V)
Handmade Polish style dumplings with cottage cheese and potatoes
3. Ping Pongs
Handmade Silesian white dumplings stuffed with meat
4. Stuffed Bap
Chicken burger with tomato, crunchy salad and tomato sauce, served with chips on side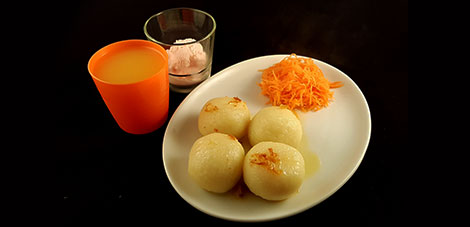 ---
Dessets
1. Sundaes – £3.00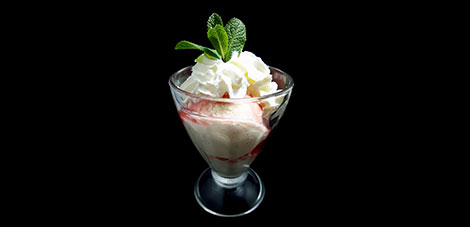 2. Lumpy Bumpy – £3.40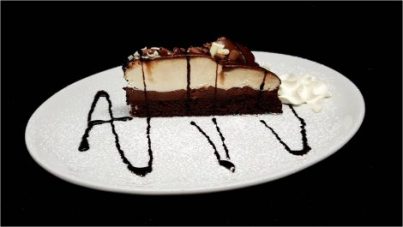 3. Honeycomb cheesecake – £3.90